How do we celebrate famous festivals in India | Why are Indian Festivals so important | What is the importance of festivals | Why India is called the land of festivals | What value do festivals teach us | Indian Festival Categories
India is a land of several famous festivals and fairs. Festivals In India means a gathering of people at one place to celebrate some occasion. Virtually celebrating each day of the year, more Famous Festivals Of India are celebrated in India than anywhere else in the world. Each festival pertains to different events, and some welcome the seasons of the year, the harvest, the rains, or the full moon. Others celebrate religious occasions, the birthdays of divine beings and saints, or the advent of the New Year. A number of these festivals are typical in most parts of India. However, they may be called by different names in various parts of the country or celebrated differently. Some of the famous festivals of India are celebrated all over India as mentioned below. However, this section is still under enhancement. Various communities in India celebrate many other important famous Indian festivals, and this section shall be further enriched with information about them.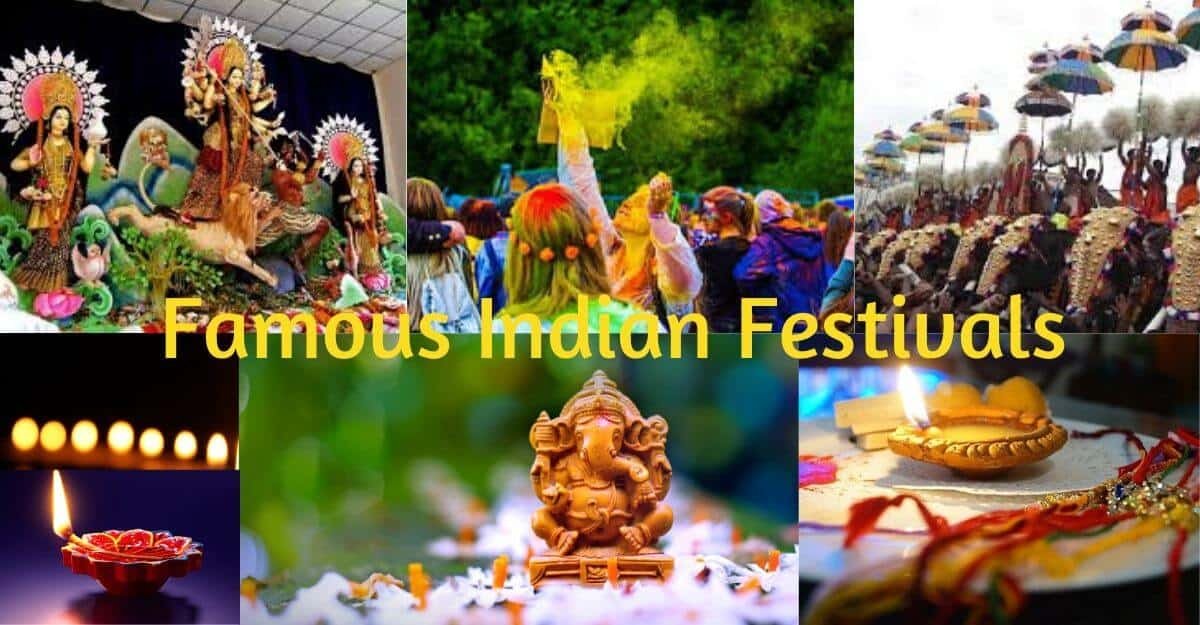 Famous Indian Festivals Categories | What are the Famous Festivals of India | How many categories of festivals are there in India | Festivals of India state wise
India is a secular country with a vast cultural legacy, and India being a land of festivals, has various cultures and religions spread amongst the entire country. There are several Famous Indian Festivals celebrated in India, and hence India celebrates the maximum number of religious and cultural festivals than any other country in the world. Some of these festivals are common in many parts of India. These festivals may be known in different names in different parts of India and also celebrated in different ways. Many festivals are there in Hinduism as well as for other religions. The festivals of India can be categorized into categories like Seasonal Festivals, Religious Festivals, National Festivals etc.
Top 7 Categories of Famous Festivals Of India | Indian Festival Categories

Seasonal or Harvest Festivals

As the name implies, the Seasonal Famous Festivals Of India are celebrated in a particular season. Like the harvesting season is celebrated in different states of India. For example, Bihu is the harvest festival of Assam, Pongal is the harvest festival of Tamil Nadu and in Kerala, Onam is known as the harvest festival. Baisakhi is also known as the first calendar festival in West Bengal. There are several other famous Indian Festivals like Masi Magam, Makar Sankranti, Baisakhi, Ladakh Harvest Festival, Lohri, Ka Pomblang Nongkrem, Bhogali Bihu, Onam, Pongal, Nabanna Festival, Wangala, Nuakhai etc. Happiness flows within people while celebrating these Famous Indian Festivals.
Religious Festivals

Religious Famous Festivals Of India are celebrated to specify the importance often marked by adherents to the different religions. There are many other religious Famous Festivals Of India which include Ganesh Chaturthi, Shivratri, Vasant Panchami, Krishna Janmashtami, Ram Navami, Raksha Bandhan, Rath Yatra, Holi, Durga Puja, Navaratri, Diwali, Dussehra, Eid-ul-Zuha, Eid-ul-fitr, Karthigai Deepam – Tamil festival of lights, Gangaur, Chhath Puja, Christmas and the festivals of the Parsees and the Jews, etc. Apart from Hindu, Muslim and christen religion there are many other religions like Jain, Buddhist, Sikh and they also used to celebrate their religious festivals in their way. People used to celebrate and enjoy these religious and Famous Festivals Of India accordingly as per their respective religion and culture.
New Year Festivals (Famous Festivals Of India)

People of India used to celebrate the New Year based on both the solar and lunar calendar systems. People from different religions used to celebrate their respective new year festivals. Apart from the Hindu new year festival known as Baisakhi, there are other religious new year's festivals like the Islamic new year, Sindhi new year, etc. Because of this variety, this classification is a must in the list of categories of famous festivals of India and such other Indian new year festivals are Gudi Padwa, Maithili New Year (Jude Sheetal), Ugadi, Jamshed Navroz, Islamic New Year, Puthandu, Cheti Chand, Bohag Bihu, Vishu, Bengali New Year (Pôhela Boishakh) and New Year which are celebrated to welcome the new year in different parts of the country.
Festivals of Yatra or Mela

There are some special types of Famous Festivals Of India, known as Yatra or Mela, which used to held every year in some specific cities and some of them also happens in different parts of India with an interval of 12 years as well. Kumbh Mela is one such Famous Festivals Of India, which is structured every 12 years at separate cities with different names. Kumbh Mela organized in Nashik city is one of them which is known as Nashik-Trimbakeshwar Simhastha. Other cities which organize Kumbh Mela are Hardwar, Ujjain and Allahabad. Apart from Kumbh Mela, there are many pilgrimage places in India, which hosts these types of such grand Yatras and festivals. Lots of pilgrims take part in these Festivals with great religious zeal. There are several such Famous Indian Festivals like Ratha yatra Festival, Amarnath Yatra, Mahamastakabhisheka, Tirumala Tirupati Festival, Pandharpur Wari Yatra, Char Dham Yatra, Sabarimala Festival, Chandrabhaga Mela etc.
Birth related festivals (Famous Festivals Of India)

Several religions and communities and in India used to celebrate the Birth Anniversaries as a festival of divinities of their community. Based on birth dates of different Gods, Saints and religious leaders of India, there are several types of Famous Festivals Of India, like Mahavir Jayanti, Guru Gobind Singh Jayanti, Tulsidas Jayanti, Guru Nanak Jayanti, Chhatrapati Shivaji Jayanti, Swaminarayan Jayanti, Hanuman Jayanti, Parshuram Jayanti, Mahavir Jayanti, Buddha Jayanti, Sant Guru Kabir Jayanti, Surdas Jayanti etc.
Festivals with animals

Some Famous festivals of India are also there, which used to celebrate in different parts of India for showing admiration and thankfulness towards animals. As agriculture is still the main source of income in India, most of the people still depend on farming and farming related trades as a source of income. In many parts of the country, farmers still use bulls for farming related works, and hence, in some parts of India, people used to pay their respect and gratitude to praise bulls, in the forms of Festivals. Farmers celebrate Bail Pola to show their gratitude to the bulls for their help in farming and farming activities. Other similar types of Famous Indian Festivals are Elephant Festival, Kambala, Pushkar Camel Festival, Jallikattu, Nag Panchami etc.
National Festivals

National Festivals Of India are celebrated across the country irrespective of the caste, religion, gender and sex. Basically, there are three National Festivals Of India – namely The Independence Day, The Republic Day and Gandhi Jayanti and also these festivals are public holidays regardless of the State and the Union Territory. The entire nation used to celebrate these three Famous Festivals Of India.
Frequently Asked Questions:
What are the famous Festival of India?
Navratri and Diwali are the most common and Famous Festivals of India. These famous festivals are celebrated amongst all parts of India with great dedication and devotion to spread harmony, peace and culture.
Why are Indian festivals important?
Festivals are celebrated in India, regardless of caste and religion in the entire country for bringing people closer and creating a strong bond of harmony, peace, and culture.
How many types of festivals are there in India?
Mostly there are 7 types of festival in India based on the below categories:
1.Seasonal or Harvest Festivals
2.Religious Festivals
3.New Year Festivals
4.Festivals of Yatra or Mela
5.Birth related festivals
6.Festivals with animals
7.National Festivals
What country has the most festivals?
Based on the different categories, India has the maximum number of festivals.