Happy Krishna Janmashtami 2023 – Famous Indian Festival
Happy Krishna Janmashtami, which is also popular as Krishnashtami, Sree Jayanthi, Gokulastami, Srikrishna Jayanti, Astami Rohini, Saatam Aathami, is one of the most Famous Indian Festival, which actually celebrates the birth of Lord Krishna, the eighth incarnation of Lord Vishnu. Krishna Janmashtami is celebrated mostly in all parts of India with great devotion and dedication. Happy Krishna Janmashtami images.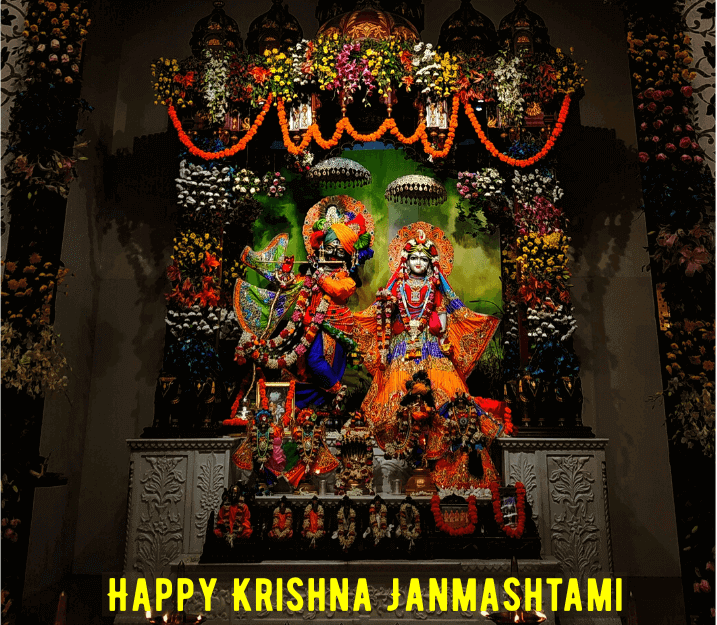 What is Krishna Janmashtami | When is Krishna Janmashtami celebrated | Krishna Janmashtami 2023 Date | Happy Krishna Janmashtami images | Happy Krishna Janmashtami status
As per the Hindu calendar, Lord Krishna was born on the eighth day of the luni-solar calendar, which is known as Ashtami, of Krishna paksha, which is the dark fort night in the month of Bhadra, which is usually falls in August or September. Indian people celebrate Janmashtami with huge spirit, devotion and dedication every year in the month of August or September. This year Happy Krishna Janmashtami is on Friday, 19 August 2023, in India.
Krishna Janmashtami Date
2021 – Monday, 30 August 2021
2022 – Friday, 19 August 2022
2023 – Thursday, 7 Sep 2023
2024 – Monday, 26 August 2024
Specially, for the Vaishnav religion, Krishna Janmashtami is one of the most important festival. Mostly people used to celebrate by performing dance dramas on Lord Krishna's life, known as Krishna Lila or Raas Lila, keeping fasting or Upavas, singing Kirtan or devotional songs till midnight, known as Ratri Jagaran and to celebrate the festival known as Mohotsav.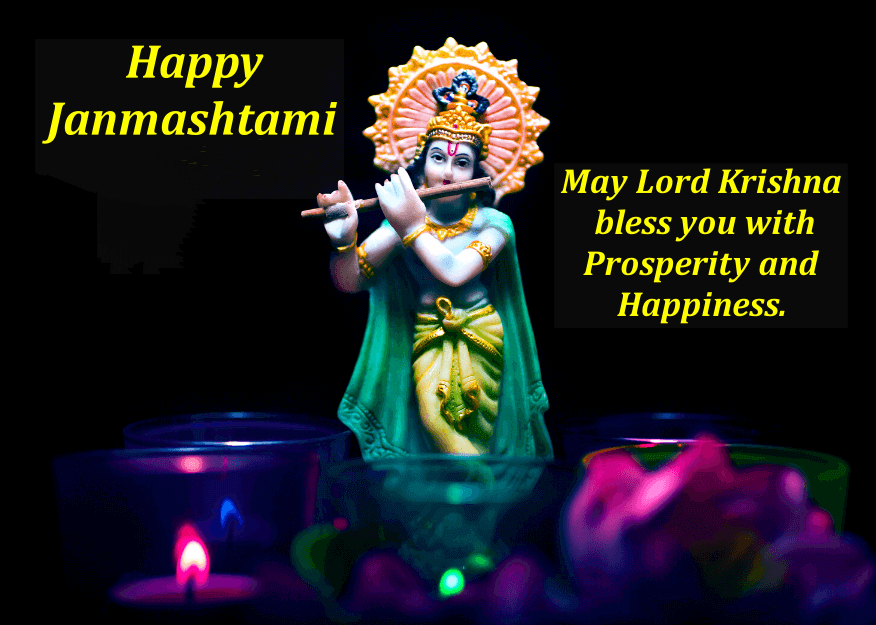 Nandotsav Festival – Gokulashtami

Nandotsav festival happens on the next day of Krishna Janmashtami. Nandotsav festival is celebrates the birth of Lord Krishna, where it is said that the villagers of Brij went to Nanda Baba's place to see the new born baby Krishna and wish Maa Yashoda and Nanda Baba circulated gifts to villagers.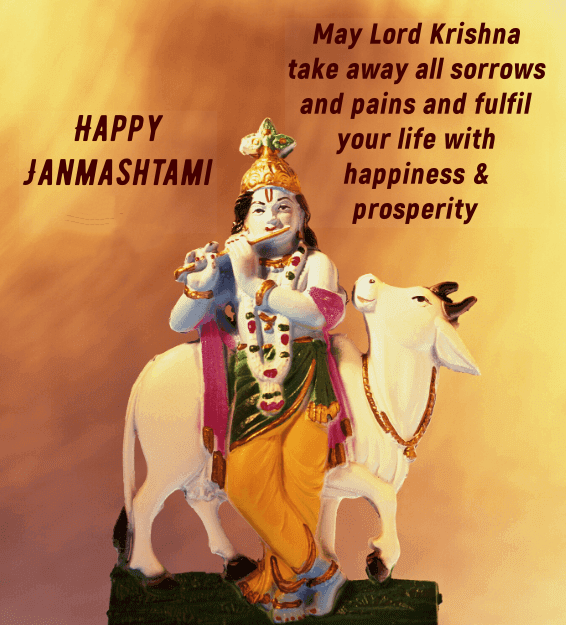 Symbolism of Happy Sri Krishna Jayanti
Happy Krishna Janmashtami – another beautiful Famous Indian Festival that we find in India and ancient tradition is the festival connected to the birth of Krishna, it says Krishna Janmashtami special. It is said that he was born in midnight in the dungeons of his uncle Kansha, because his parents had been imprisoned and his uncle was waiting for the child to be born, so he could kill the new born baby at night.
But after the birth of Lord Krishna, his father Vasudeva secretly took him out of the palace when all the guards suddenly fell asleep and crossed the river Yamuna to take the baby boy to Yashoda, in Vrindavan and told her to take care of him and to raise him.
Now, this is a very strange story if you see, but it has a beautiful symbolism because Krishna is a symbol for the love the total happiness and the Infinity and Devaki his mother signifies the body his father Vasudeva is a symbol for the prana or the mind, so it says when the body and the mind and the prana they come together when that yoga happens Krishna is born.
The Infinity that ecstasy is born but then to be able to protect it to sustain it. It cannot stay there because Kansa which is a symbol for the ego. That Ahankara will try to kill that pervert that love that bliss that infinity. The body comes the ego the sense of self.
That constraint they are connected so to protect him his father the prana the mind took him away and took him transversely the stream of love of piety that is the Yamuna it's a symbol of love so he crossed that love and reached a shoulder which symbolizes that devotion the gopi symbolized devotion.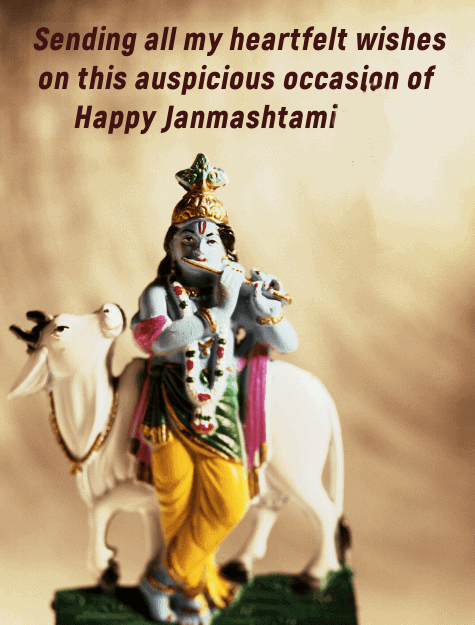 So when out of yoga it is possible through yoga that infinity that bliss comes up it is born but to sustain it for it to mature and to become firmly established it has to come to devotion without love without devotion that bliss that infinity cannot sustain the ego will pervert it and all the guards in the palace they went to sleep and Krishna was born because those the guards they symbolize the census and all the census when that bliss is born they turn inward they go to sleep.
So it's a beautiful symbolism and it shows as we celebrate not just the birth of Krishna at some place and some time it should be celebrated every day every moment with that memory that yes through yoga the combination of the body the breath the mind that infinity that ecstasy is born and then through love through consecration we can nourish and withstand it so that it becomes firmly established in our lives and then we experience Krishna and that is the true celebration of Krishna Janmashtami.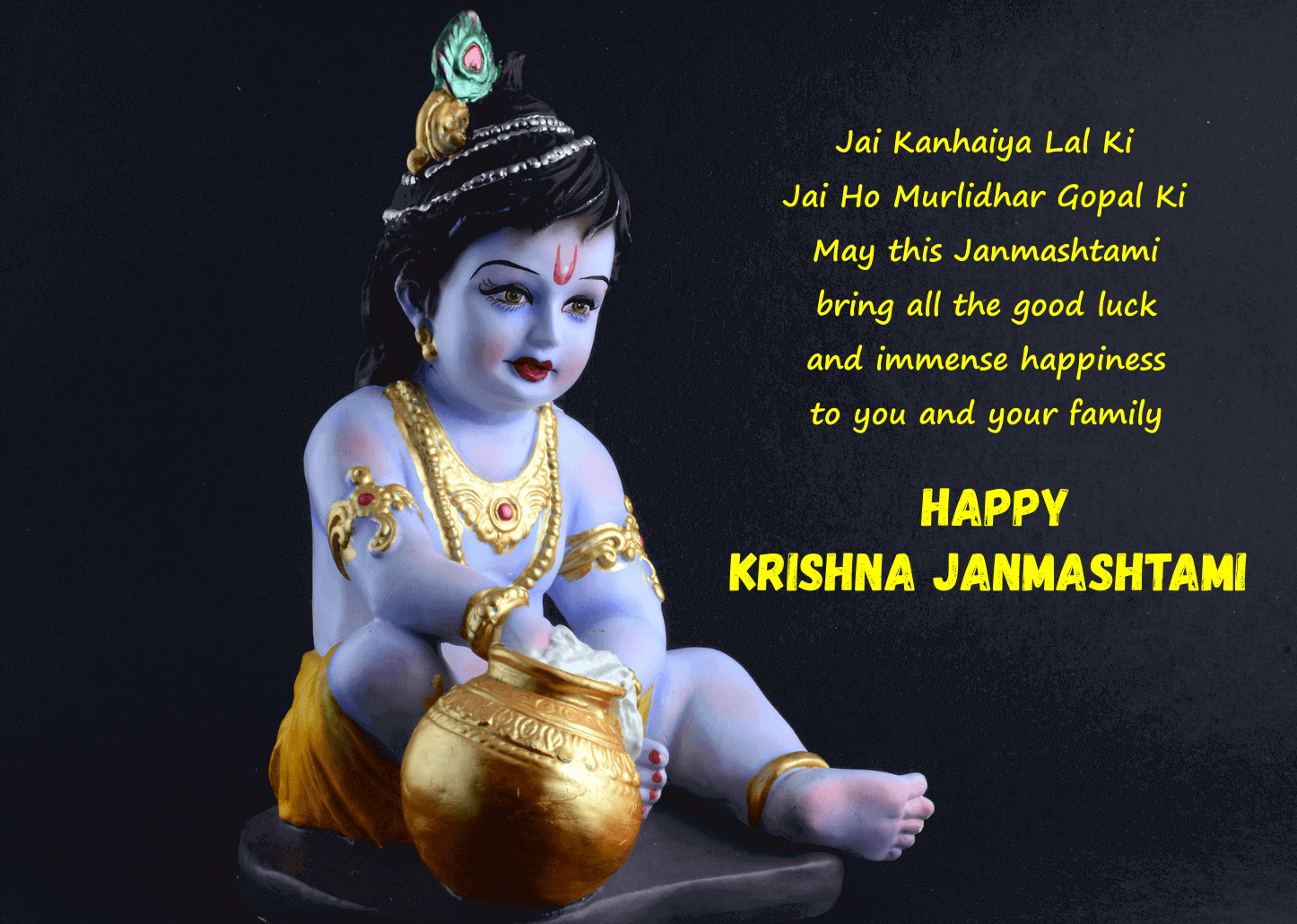 How Happy Janmashtami is celebrated
Krishna's birth is celebrated across India on the eighth day of the dark fortnight. It is believed that Krishna was born on a dark and stormy night to end the rule of his uncle Kansa, on the day of Jan.
The devotees of Krishna observed fasts, sing devotional songs, make offerings, offer our teas bathe the idol of Krishna and rock the cradle of baby Krishna in Mathura and Vrindavan. The places where Krishna spent most of his life. Celebrations are held with great pomp and show religious blaze and Raas Leela's are held to recreate the incidents from the life of Lord Krishna, the devotees sing songs and perform dances to celebrate the occasion in many places.
Krishna's devotees organize the Dahi Handi the event, which is a ritualized remembrance of Krishna's butter stealing, how Krishna found the cows missing and went looking for them when he returned, he found that Brahma had kidnapped his friends as well. Lord Krishna is believed to fulfill all desires of the humble devotees.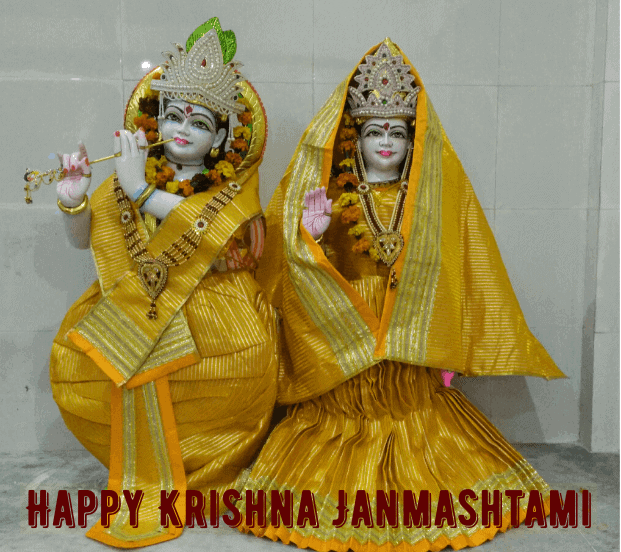 How did you celebrate this Janmashtami | Janmashtami HD images download
If you want to know how to celebrate Krishna Janmashtami? Let's go, so here we are going to make Charnamrit for Pooja and the stuffs for it to make in this much amount as we've have to serve it in the whole society. So, mix milk and curd well. Sugar for Sweetening, then add honey, 2 Tablespoon Ghee, Ganga Jal Water of holy river Ganga. Tulsi leaves and five dry fruits (Panchmeva). So, here's Prashad is ready.
People used to beautifully decorate the idols of Mother Yashoda and Lord Krishna for puja ceremony. Devotees arranged several cultural items like dance drama based on the history of Lord Krishna's childhood known as Krishna-Leela or Raas-Leela and also participate and perform as well. Another popular celebration like Breaking of Dahi-Handi also gets performed, where pots of Dahi/Yogart used to hung up high and devotees created a human pillar to climb to the pot for breaking it. Besides puja, singing and celebrations continues till late night with great devotion and dedication all around the country. Happy Krishna Janmashtami images.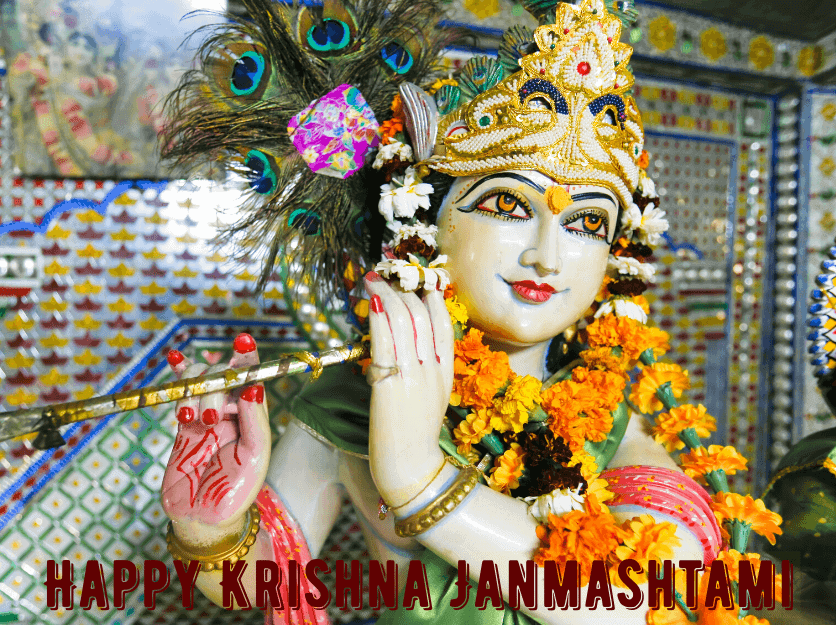 Story of Janmashtami | Krishna and Kansha Story | Indian Mythology Stories
A long time ago in Mathura, there was a king named Kansa, who was infamous for his greed and unhealable. After the marriage of his sister Devki, lady diversity of prophetic voice remember and our guns your dictatorship is going to come to an end, when the eighth son born to Devki and Vasudev will tell you this. Kansa engaged guns and he imprisoned Devki and Vasudev and went on to kill seven of babies. When Devki and Vasudev gave birth to their eighth child, atrocity voices turn and said take the child across the river yamuna to Gokul and exchange him with your friends nun and yashoda's newly born daughter.
Vasudev look down to realize his hands had been Unchained he could he picked up his child and put him in a basket arriving at the prison gate and the gate opened on their own. As he draws the stormy river the basket upon his head the water never rose above his shoulders when he stopped and a ten headed snake appeared to protect the child from the pouring rain. Vasudev realized that his child was divinely blessed. At Nan's house Vasudev exchanged the child and return to the prison. when Kansa harm the child, it took the form of Goddess Durga and said that the eighth child who is going to end your rule of terror has been born and will fulfil his prophecy. The child Krishna was raised when you showed up and went on to kill guts and so every year, people celebrate the birth of Lord Krishna also known as Krishna Janmashtami across India. Happy Krishna Janmashtami images.
What Prasad is made on Janmashtami? | What are the BHOG for Janmashtami? | What is the Prasad for Lord Krishna? | What is Lord Krishna's Favourite food?
Makhan Mishri is considered as one of Lord Krishna's favourite. Apart from that people used to prepare Dhaniya panjeeri or Coriander panjeeri, Janmashtami Prasad Thali, Janmashtami Bhog Panjiri, Panchamrit, Mewa Kheer, Makhan Mishri and Paag also.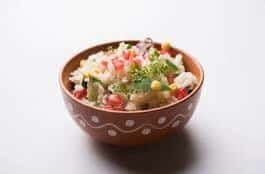 Below are the links for the Janmashtami Prasad recipes: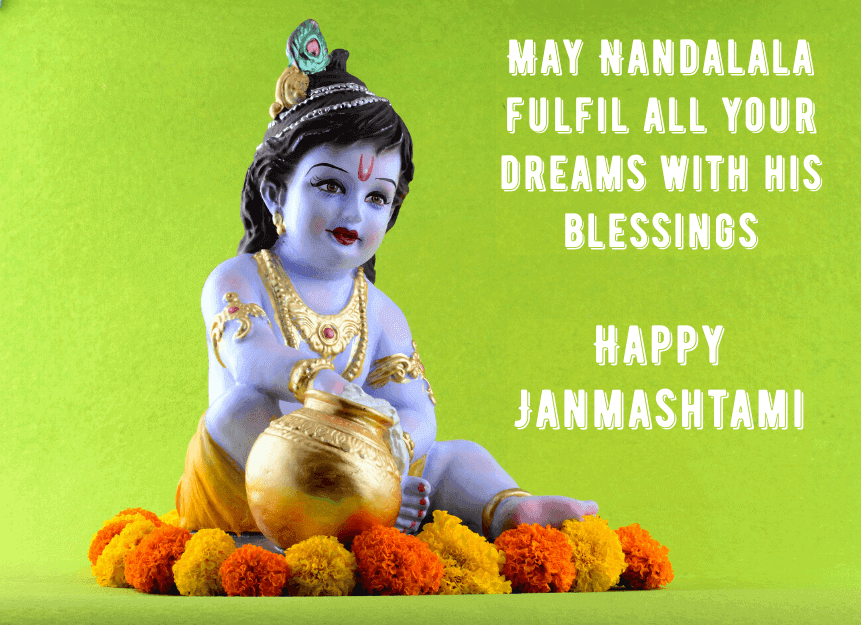 Happy Janmashtami celebratory wishes in Hindi and English are shared among friends and family through various messaging platforms like Facebook, WhatsApp, etc. The celebration of Janmashtami is followed by a day of festive and grand celebration on Dahi Handi. Happy Krishna Janmashtami images.