Janmashtami Special Recipe | Taal kheer And Taler Bora | How to make Taler Bora | Taler Bora recipe
Fritters with Toddy palm (Taal Kheer) and Taler Bora are some special items which used to prepare and offer to Lord Krishna, especially on the pious occasion of Krishna Jayanti or Krishna Janmashtami or Gokulashtami.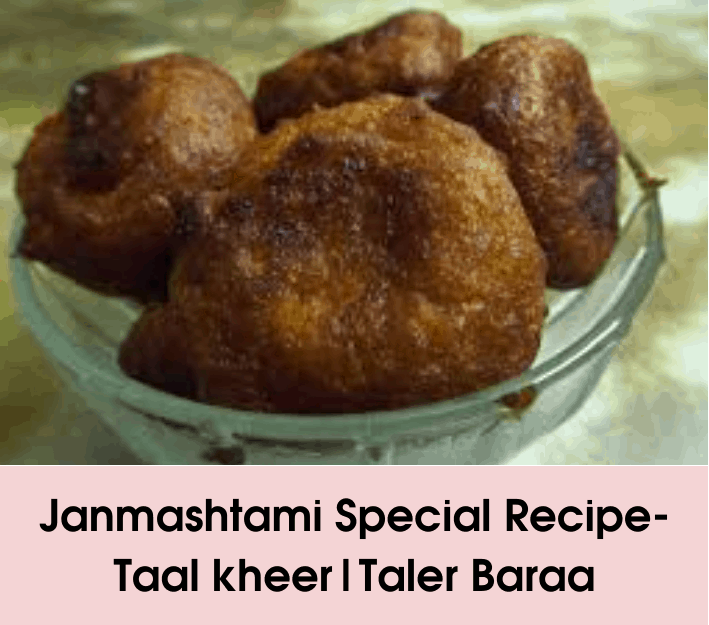 Kheer and fritters with Toddy palm fruit
Making of thick pulp from toddy palm (Taal) for beginners, take 1 large black toddy palm or taal from market. First wash and pat dry with a cloth and then remove hard top shell. After that remove fibrous cover /skin. Then separate 3 large seeds. Now take a perforated platter or atta chalni.
Take little water in your hand and then rub the fibrous seeds on perforated platter or atta chalni till the seeds become white in color. In this way take out thick pulp and keep aside.
Ingredients – Taal Kheer:
Kheer with toddy palm/Taal Kheer 5 cups of thick pulp (toddy palm /taal).
Homemade condensed milk (reduce 1 litre milk to ½).
5 cups of sugar.
1 cup grated coconut.
1 black cardamom powder.
½ small bowl of water.
On the flame. Add one by one grated coconut, sugar, ½ bowl water. Mix all well Keep stirring on less medium flame with a wooden spoon. If mixture will be thick, add homemade condensed milk. Mix well until extra moisture is completely dried. Add black cardamom powder and switch off the flame. Taal Kheer is ready for offering to Lord Krishna.
# Fritters with Toddy palm / Taler Bora
Ingredients – Taler Bora:
4 cups of toddy palm pulp
2 cup sugarcane jaggery
2 cups of atta (wheat flour)
1 cup semolina/sooji
½ cup grated coconut
1 small bowl of water
White oil for frying.
To prepare Taler Bora, add some atta / wheat flour semolina/sooji, grated coconut, jaggery well. Then heat the oil on high flame and after that reduces the flame. Now drop the thick batter into oil. Dip fry on less medium flame. Now the golden fritters are ready to serve. You can add 1 fistful atta / wheat flour with batter if needed.
Now, Taal kheer And Taler Bora are ready for offering to Lord Krishna on the occasion of Krishna Janmashtami.
Frequently Asked Questions:
What is Tal Bora?
Taler bora is a very popular Bengali home-made traditional sweet delicacy. Taler bora is also a traditional and special item for Janmashtami prasad. Bengalis prepared taler bora and offer to Lord Krishna on Krishna Janmashtami festival.
What is Tal fruit called in English?
Borassus flabellifer, commonly known as doub palm, palmyra palm, tala or tal palm, toddy palm, wine palm or ice apple is native to the Indian subcontinent and Southeast Asia.